Considering a run for county sheriff? You'll be in good company! There are over three thousand sheriffs in the United States – and nearly all of them are elected into office by popular vote.
So to become sheriff, you need to prepare to run an election campaign.
Here are some general guidelines on how to run for sheriff
The first step in running for any elected position is to actually decide to run. This means that you need to get your family and friends to support you on your goal. You'll soon need more, such as signatures and support of potential voters.
Before you start a campaign, it's important to check with your local election board. Election guidelines and regulations are set by the states, counties and municipalities.
Learn the qualifications needed to be sheriff. Each state and county has its own requirements. Generally, you typically need to meet a minimum age of 18 or 21. You should be a U.S. citizen and have a high school diploma or GED. A felony conviction will probably prevent your eligibility. Some sheriff office positions require additional certifications or evaluations. Experience as a law enforcement officer is probably required, as well.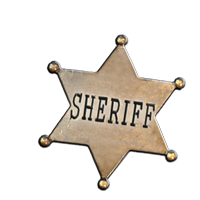 You should understand what the job as sheriff entails. The specific job requirements vary from county to county. A sheriff's job may require investigating crimes, serving  civil papers, such as divorce papers, eviction notices, etc. The sheriff's office  may maintain the county jail and transport prisoners to and from court. They are responsible for law enforcement in their jurisdiction, including all towns, cities and villages in the county.
Is the position full-time, or something you can do it on the side? Consider the amount of work time required. Will this interfere with your current job? Will you be able to keep it or will you have to leave it to take on a full-time law enforcement position.

Find out what requirement are needed to get on the ballot. In most cases, you'll need a petition with enough signatures to become eligible. Start your campaign early. You may need a year or so before the election to put together a campaign staff, recruit volunteers and raise money for the campaign.
You will need a campaign plan. This will include your campaign platform, the issues you will run on, events to promote your campaign, and an overview of your election districts to determine your most likely supporters. You should flesh out your fundraising and advertising plans. Enlist your family and friends to build the foundation of a solid campaign team.
Your campaign budget is critical for success. Your campaign treasurer will oversee your campaign accounting and fundraising. Start your seed money from your own funds, family and close friends. Begin fundraising with events and build your donor base.
Tip: You will need to open a campaign bank account in order to accept donations. The earlier you have one, the sooner you can start raising seed money. Check your local election board for requirement details.
Study the issues know where you stand on them. Know your opponents' strengths and weaknesses. Reach out to voters through speaking engagements and engage your community. Attend town hall meetings.  Go door to door. Advertise with postcard mailings, yard signs, television and radio advertising. Get online. Build a campaign website and grow your presence on social network sites like Facebook and Twitter.
Continue to build support as Election Day nears. Go all out at the end. The more you are known by the voters, the better your chances of victory. It goes without saying that showing up in person at events and door-to-door will help you connect with voters.
Technology makes it easier to connect to people than ever before. Social media is essential to success for any political campaign. Because the challenges of sheriff elections are not much different than any other local elected position, a sheriff campaign website can help make the difference – and serve as the hub of your online campaign!
For more campaign tips on how to win a county sheriff election, sign up for the newsletter below.