Today, almost all candidates for sheriff are moving their campaigns online. There are many options available for getting a sheriff campaign website.
For example, there are free or low-cost 'site builders' that can be difficult to use and provide little support. They also do not include built-in tools that candidates require. Need a volunteer form set up? You're on your own…
You can hire a professional web design firm – but that's expensive and can take weeks if not months to complete. You can take a risk and hire a local 'web guy' to build you a site, but then you may be dependent on that person for site updates – if you can ever reach them.
There is a better way …
Online Candidate® gives sheriff and sheriff-coroner candidates the ability to create and update their own campaign website. Give your campaign a powerful online presence at an affordable price!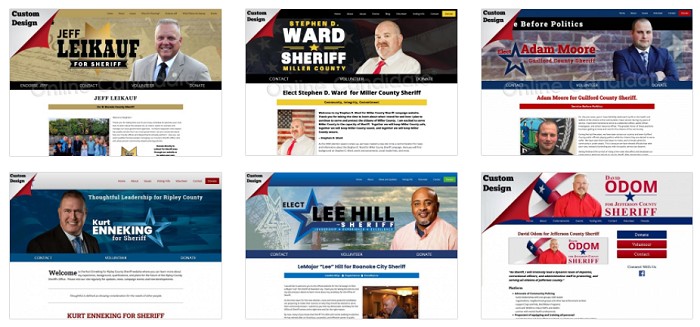 See our sheriff website design gallery.

Designed specifically for local political candidates, our easy-to-use system makes it simple to add and edit your online message. Recruit supporters, raise funds, add events and upload files, create contact forms, build an e-mail list, run a poll and more.
Sheriff Website Design Packages by Online Candidate®
Regular Campaign Website Package
For those who want a more customized design, our Regular Campaign Website Package may serve your needs. We create a custom website header and other template modifications (such as colors, font, background, etc.) to create a unique look. You add the content to build a powerful online presence.
Enhanced Campaign Website Package
The Enhanced Campaign Website Package features ALL of the design and functionality of the Regular Website Package, but also includes the setup of your initial site content. We'll arrange your site text and images for a pleasing design and optimize your content for search engines. After that, it's all in your control. It's a great option for candidates who don't have the time to add content themselves.
Lite Campaign Website Package
Our Lite Website Package features customized color schemes to select, hosting, contact forms, mail list and more. We have great default color schemes and header images that are perfect for law enforcement candidates.
Monthly Website Option
Our Monthly Website Option is designed for campaigns starting with a tight budget and do not want to go with one of our extended campaign website packages. The Monthly Option features recurring billing that can be cancelled at any time. Choose from a wide selection of header images, color styles, and font types to create a unique look reflects your unique campaign.
Create a high-quality site that effectively broadcasts your message 24/7. No HTML or programming skills are required. We also offer digital marketing services to help improve your exposure and name recognition.
We've helped many candidates for sheriff run and win their elections. Let us help you.
For less than the cost of a mailing, you can have a great-looking website that will help WIN your election! For more information, visit onlinecandidate.com.